Along with most of the sewing blogosphere, my eyes basically fell out when the November issue of Burda magazine came out and it contained the following pattern, for a 50s wiggle dress in updated sizing: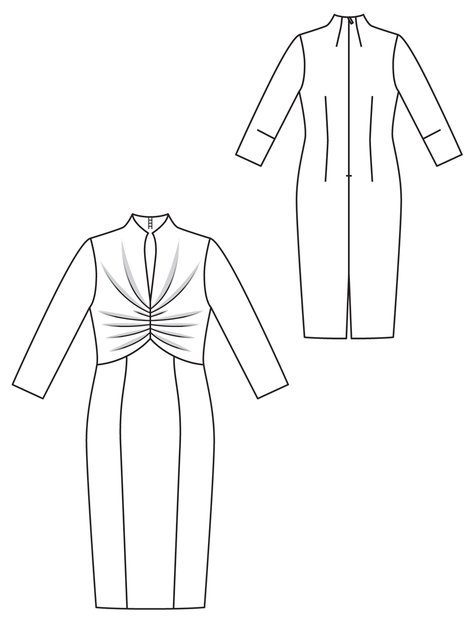 I had. to. have. this. dress. The great thing is that it's designed for curvy girls – designed to highlight and flatter a small waist/large hips because that's what was in fashion at the time. (I love the look of the 60s boyish shift dresses, but just… no.)
If you are interested in technical information, I really just suggest that you go to Melissa's post here. I did find it very useful to have her notes to refer to, although I must admit that I took the easy route and used chalk to trace all those darts rather than thread tracing. Due to a couple of fabric issues, I had a much closer deadline than intended, and, well, it worked. I did baste the curved seams for pressing, however, and used some machine tacks at the point of each in order to help maintain their shape once the basting came out – I wanted the fullness over the bust in order to avoid having to work out an FBA. A compromise option on the top two darts was to stitch close the top two thirds in order to keep the shape of the curves.
I did my normal length alterations, which in the case of the waist area actually turned out to be too much – see those horizontal wrinkles in the back? The length of the skirt is not one that I *ever* wear, but for this dress it felt appropriately grown up. Oh, and I did swing the skirt's side seams out by 8° at the back on each side. When you have a bottom as large as mine, even normal straight skirts can look like wiggle skirts without trying…
The dress got finished at 5:30pm for a drinks reception starting in town at 7:30pm. Positively relaxed timing!